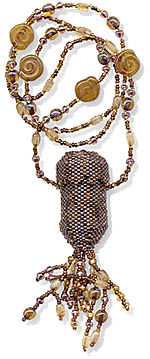 Pinecone
Pinecones come in all shapes, this one is similar to the ones that come off the evergreens near my home in Idaho.
The colors just don't show up in this scan. It is a rich deep brown with a hint of purple with the rich copper and bronze colors accenting each petal of the pinecone.
Yummy! I love fresh strawberries. Rich shades of bright red to
deep red and what a fun shape to work with!
Crystal Greens
Soft sage green tones blend
into deeper blue greens.
Accented with beautiful forest
green crystals make this piece
one a must have for any collection.
NOTE: Fringe Size 11 Olivine beads are now Crystal Champagne.
Festival Lantern
Ornate festival lanterns have always fascinated me. They can be very complicated, this design was inspired by my memories of a Chinese lantern.

Color Weave
Time for some crazy color fun!
These are just a few of my
favorite colors in a wild whirl!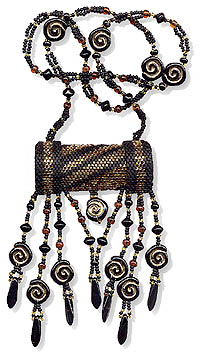 New Twist
Rich golds, browns and coppers with sharp black accents create
an elegant design that is much more than it seems.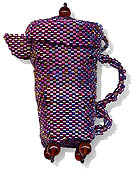 Hot Cocoa to Go!

Imagine your favorite mug filled with hot cocoa with a crown a whipped cream and topped with a cherry! The kit has
enough beads to do two cups and
the hot cocoa pot.
DELICAS ONLY $45.00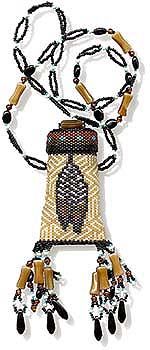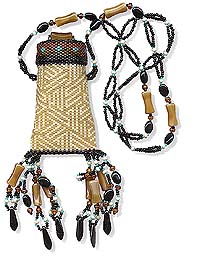 Native Style
Inspired by the wonderful weaving patterns and colors of Native American art.
The backside is just as beautiful as the front. This has become one of my favorite pieces.