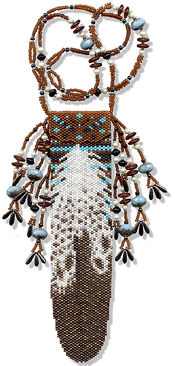 Eagle Feather
1-1/2" Width x 6-1/4" Depth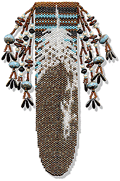 This is a juvenile Eagle feather. Mature feathers are either brown or white, but while they are juveniles, their feathers are inbetween colors creating these wonderful patterns.
PATTERN ONLY $12.00


DELICAS ONLY $50.00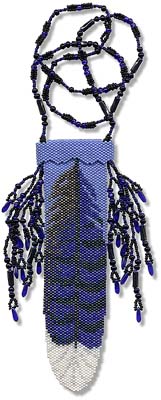 Blue Jay Feather
1-7/8" Width x 6-1/4" Depth
This Bluejay feather is such a rich and vibrant blue color, just like the birds own coloring. Lovely shiny black AB brings just that little bit of shine and sparkle that you see on feathers.
The picture on the web looks quite flat, don't let this fool you. If you've done any of my pieces before, you know I don't do flat coloring!
PATTERN ONLY $12.00

DELICAS ONLY $50.00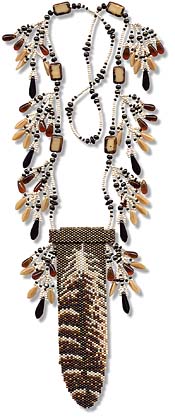 Hawk
1-3/8" Width x 4-1/2" Depth
This hawk feather has the distinctive and striking banding. Along with the rich deep colors, it has turned into one of my absolute favorites.
The necklace is stunning when worn, it gives the sense of soft feathers cascading down to the hawk feather itself. This is one piece that's NOT going on my display boards. I'm going to wear it!
PATTERN ONLY $12.00


DELICAS ONLY $39.00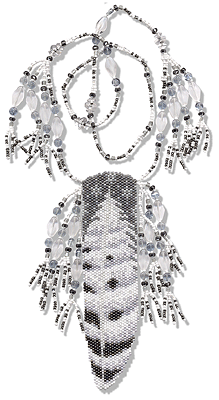 Snowy Owl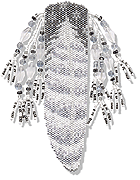 1-3/8" Width x 5-3/8" Depth
The Snowy Owl has two very distinct pattern variations depending upon the species. One hs almost purely white with very little marking at all the other is banded quite heavily which was a surprise to me.
This design is inspired by the more boldly marked owl. The front and back represent the two sides of the feather, where on the underside of the feather you get a ghost reflextion of the deep color on the topside. The subtle sparkle and soft lavender to grey shadows just don't show on the web, but believe me, it's beautiful.
PATTERN ONLY $12.00

DELICAS ONLY $42.00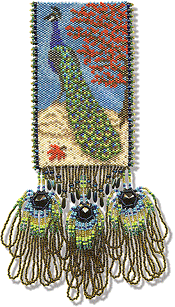 Peacock
3" Width x 4-7/8" Depth w/o Fringe
3" Width x 8-3/4" Deep w/Fringe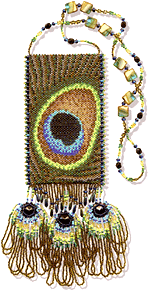 The rich colors of the peacock definitely captured my attention. The "eye" on the tail feather is truly a remarkable miracle of nature.
The rich deep greens with sparkles of turquoise blues, golds, greens and deep browns just don't show well on the web. A few of the lucky ones have seen it without it's fringe this past fall. The Swarovski Rivolis add that extra glamour that the Peacock was just calling for.
PATTERN ONLY $12.00


DELICAS ONLY $100.00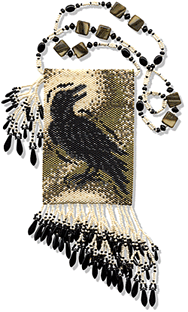 Ravens Call
2-7/8" Width x 4" Depth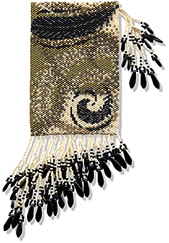 These resourceful raucous birds are the bane of my dogs lives!
They are always cruising low over our field just to get them running and barking! I know they do this for fun!