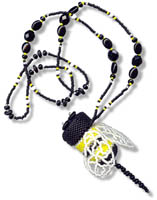 Bumblebee
Busy as a bee is a good thing to be . . .
but it's also good to take time off to
beeead!

Ladybug
This little ladybug won't bug you! She's all that, in her red and black. As she lends a helping hand in the garden.

Lighthouse
Bring some "light" into your life! What a
lovely way to carry your needlecase or lipstick
in this fun and functional Lighthouse!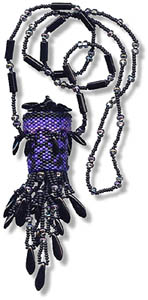 Purple Filigree
Elegant deep purple shading to a light lavender
with a sinuous black leaf and vine filigree pattern overall.

Cowabunga!
I see spots! Or just a few large ones.
Inspired by a trip to North Dakota and
all the wide open spaces.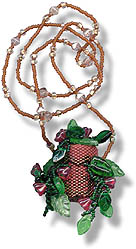 Flower Pot
This fun little flower pot is just overflowing with
spring flowers! The base and lid are very basi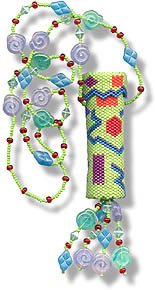 c
so the flowers and vines really show up.

Retro
This is a blast from the past with the wild colors and geometric shapes! What a fun way to carry your needlecase!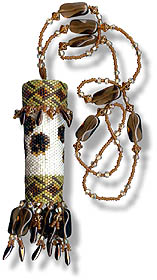 Leopard Print

Walk a little on the wild side with this
needlecase holder. Earthy geometric
designs compliment the animal print.
Ocean Breeze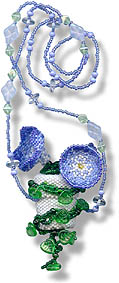 Wind whispers by your face, softly blowing your hair.
Whispy white clouds swirl along a blue, blue sky.
Morning Glory
Beautiful soft flowers that open during the early morning
with their periwinkle color and fun trumpet shape.
Tea Time

This fun sculptural piece is both functional and fun.
The teapot is a great size for large thimbles or
other objects you wish to carry. It's a work of art
you can put on display too!