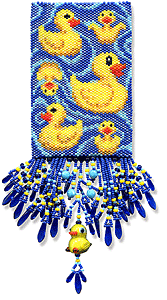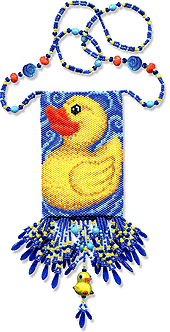 All Quacked Up!
102 Across by 121 Down - 2-5/8" w x 4-1/8" long
Funny Little ducks make me smile when I see them.
Classic style or all dressed up, they "quack me up!"
I'm always tempted to buy one, but I think they're like potato chips,
once you start, you can't stop! I can see my house being taking over
by an army of little rubber duckys!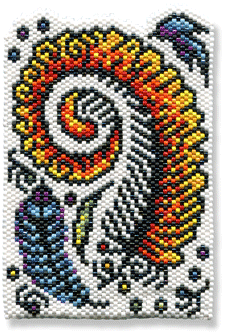 Feather Fantasy
102 Across by 121 Down 2-5/8" w x 4-1/8" long
These fantastical feathers were just a free
flowing design. I love to just play with color and shading.
Using some of my favorite colors.
They came into being in a day. Bright, happy
and kinda funky.
Bright colors and fanciful shapes created in the necklace and fringe compliment the feathers and bring in a little extra playful element..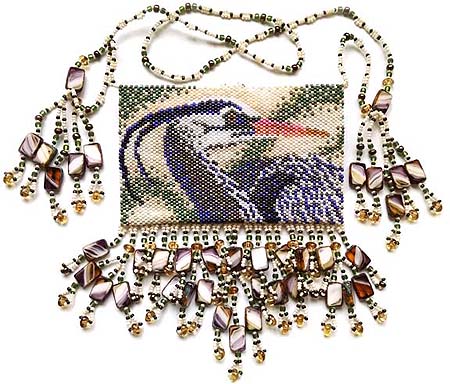 Great Blue Heron
Amulet: 170 Across by 80 Down ::: 4-1/4" w x 2-3/8" long
Necklace 24" Long
Fringe 2-7/8" Long
The Great Blue Heron is a beautiful bird with subtle
rich colors flowing through its feathers. Patiently waiting
along the edge of waterways searching for their next meal.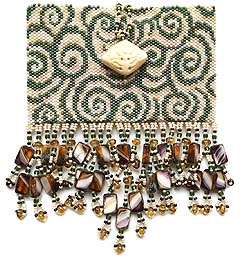 The necklace and fringe use beautiful varigaed
Czech Table Cut Accent beads and fun Nugget Accent beads along with the seed beads to compliment the amulet.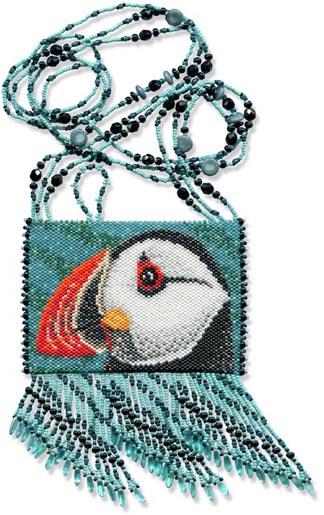 Atlantic Puffin
Amulet: 164 Across by 90 Down ::: 4-1/8" w x 3" long
Necklace 24" Long ::: Fringe 2-3/4" Long
These happy little funny faces always make me smile, though the creative process for this one almost had me tearing my hair out, instead I tore it apart many times to get the coloring and shape just right. The end result came out really fun and I love it. His little feet walked all over me!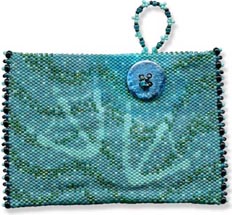 I had fun with the necklace, creating a fun multi-strand that helps balance the width of the piece when worn.
I may have had a bit too much fun with the fringing, and took that apart 4 times before I found the combination I liked! Enjoy!
| | |
| --- | --- |
| PATTERN ONLY | $12.00 |
| DELICA ONLY KIT | $94.00 |