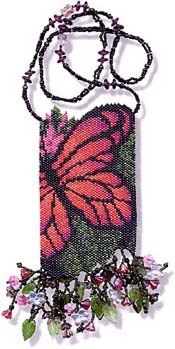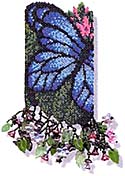 Butterfly Garden
Brilliant colored butterflies, vibrant blues on one side and the other bright pink to orange make this piece a show stopper. Large enough for business cards and credit cards, you can use this for travelling or an evening out.
PATTERN ONLY $12.00


DELICA ONLY KIT $61.00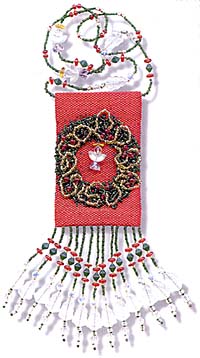 Christmas Cheer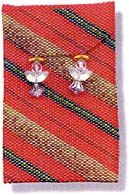 This Christmas wreath is very three dimensional. With the texture of the wreath itself and then the ornamentation it is a stand out. The backside is a pretty package all wrapped up for the season with Angels holding the corners and in the necklace to watch over you.
PATTERN ONLY $12.00


DELICA ONLY KIT $48.00

Mischief with her "oh, so innocent" blue eyes is always looking to get into trouble, though without you catching her!
And Spot just wants a warm lap to cuddle in and purrrrrrrr the night away.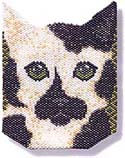 PATTERN ONLY $12.00


DELICA ONLY KIT $56.00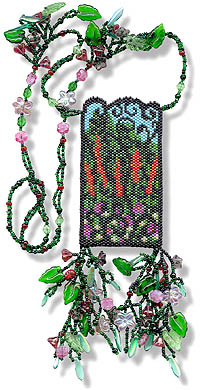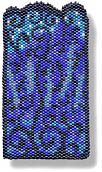 Spring Gate
The secret garden behind the wrought iron gates await you with this amulet. Bright colorful flowers in reds, oranges, pinks and yellows stand out against the vibrant greenery while the blue skies greet you.
On the back you see the garden by night, all colors are muted to soft blues with the stars sparkling above.