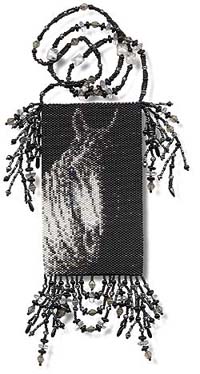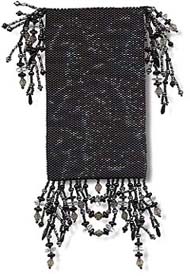 Mystery Horse
Size: 110 Across by 162 Down
2-7/8" Across by 4-7/8" Deep
w/o Fringe
Inspired by a wonderful photograph that I have in my studio. This horse is a study of light and dark.
The backside design is a herd of horses on the run in a subtle sparkle of black on black.
PATTERN ONLY $12.00


COMPLETE KIT $52.00

ONE LEFT!
DELICA ONLY KIT $54.00



Corgi Caper
Size: 122 Across by 162 Down
3-1/8 Across by 4-1/2" Deep w/o Fringe
Meet Cloe, my sweet Corgi. She has made my life richer and full of laughter with her antics and love. She has also given me a priceless gift of her daughter Cricket who is full of bounce just like her name!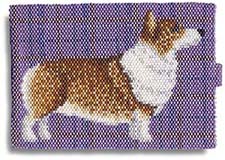 Sea Dragon!!!
Size: 112 Across by 147 Down
3" Across by 5" Deep w/o Fringe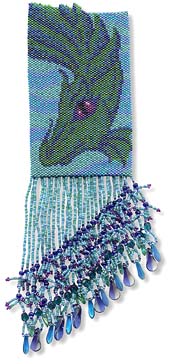 This came out absolutely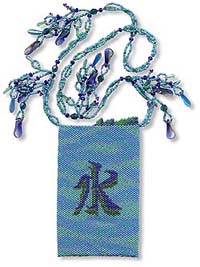 beautiful. I wish the picture could capture the subtle sparkle of the blue green beads that flow along this dragon.
The rich turquoise and aqua water in the background and the really fun fringe and necklace make this a spectactular piece.
PATTERN ONLY
$12.00



DELICA ONLY KIT
$59.00

Seashell
Main Body - 76 Across by 94 Down
Lid - 84 Across by 20 Down plus 27 Rows of Decrease
2" Across by 3-3/4" Deep ~ With Fringe 7" Deep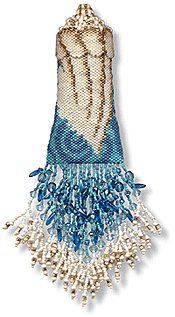 Seashells by the seashore and now one for you to wear! This delicate design reminds you of the beautiful ocean and all of it's treasures.
The rich cream and gold tones with the vibrant peach inner shell really shine in this design. The full fringe and frilly necklace are just right.
PATTERN ONLY $12.00



DELICA ONLY KIT $40.00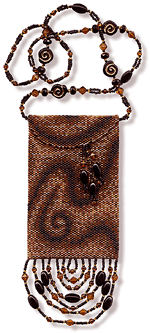 Earthblends
102 Across by 154 Down
2-5/8" Across by 4-1/8" Deep w/o Fringe or Flap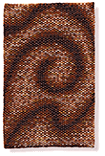 Rich golden browns and blacks swirl into bright copper and goldtones. This amulet bag is perfect for your evening out with just the right touch of elegance.
PATTERN ONLY
$12.00



DELICA ONLY KIT $43.00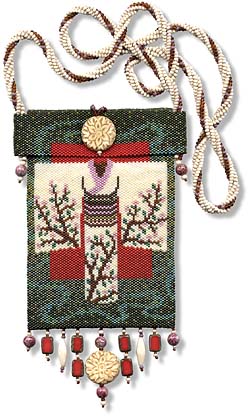 Kimono I ~ Purse
Lid: 186 Across by 43 Down
Finished Size of Lid 4-3/4" Across by 1-1/4" Deep
Main Body: 154 Across by 170 Down
Finished Size of Main Body 4" Across
by 5-5/8" Deep w/o Fringe
The rich ivory colored kimono with an overlay of cherry blossoms celebrates the coming of spring.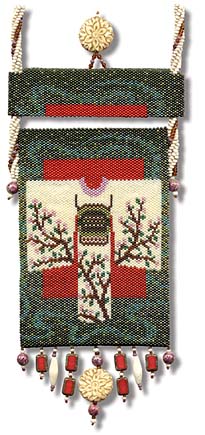 Large enough for a passport and to be used as a true purse.
The top slides up the twisted herringbone necklace/shoulder strap to give you access to the purse itself. This soft and flexible strap is very strong. When I want to wear it as a necklace, I make one overhand knot with the strap and it shortens it just right for a necklace. Enough beads for up to approximately 40" necklace/strap.
This is a Limited Edition kit due to the size and the unique and beautiful beads used for the accents, which are not easily found. So I'll only be making this kit as my supplies last.
PATTERN ONLY $14.00

DELICA ONLY KIT $126.00


*Note If you don't need the pattern for this design. $7 will be deducted from the Delica Only Kit. Unlike $5 for all regular designs.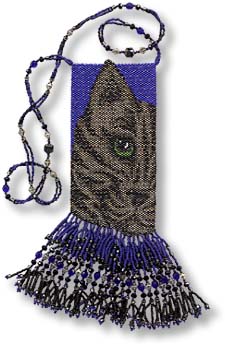 Petroglyph & Sunshine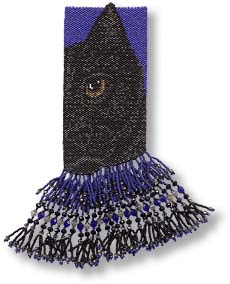 102 Across by
164 Down

2-5/8" Across by 5-1/4" Deep w/o Fringe
These two characters are the proud companions of my friend Valerie in Tucson Arizona.
They always help her with her sewing, quilting and beading projects!
PATTERN ONLY $12.00

DELICA ONLY KIT $75.00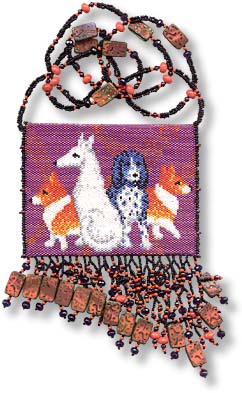 Dog Gone Crazy
Limited Edition Kit
194 Across by 190 Down
Finished Size of Purse 5" Across by 3-3/4" Deep
not including Flap or Fringe
This wildly vibrant design is very special to me since it represents my four footed companions. Cloe, Cloud, Piper and Cricket are my kids and they keep me both sane and insane.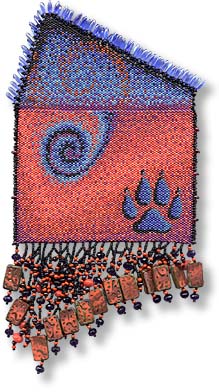 They travel with me around the country to shows and teaching. The watch over me and the RV, and they make me get out and get my exercise.
And yes, I do walk all four at the same time! It's taken time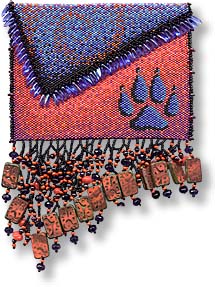 and patience but if
you're going to have
multiple dogs, you HAVE to train them, otherwise I'd be run over getting in and out of the RV, and going for a drag, not a walk!
The fringe is flamboyant with the bright colors and special beads I found. This is a good third of the cost for the kit. Not to mention the number of delicas it takes to make a piece this large! So it's a limited edition kit and when the supply is gone, it will only be available as a pattern or delica only kit.
Enough beads for up to approximately 40" necklace/strap.
PATTERN ONLY $12.00

DELICA ONLY KIT $84.00