• • PO Box 402 • Burlington, WA 98233 • Phone 360.271.1410 • E-mail Us • •

The Elements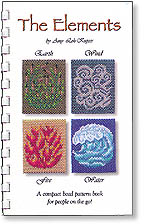 On the front of each amulet, nature's four primal elements, in bold rich colors. Earth, Wind, Fire and Water.
The backside has each elements name in Chinese calligraphy to match.
Amulet designs only, no necklace or fringe design. For brick or peyote stitch.
PATTERN BOOK ONLY $14.95


PATTERN BOOK & DELICAS $97.75*


*Full 5 gram bag of all 36 colors PLUS Book.