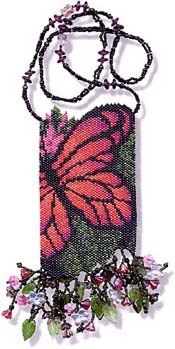 patterns...
Patterns are now available as PDF or PRINTED for all the designs shown under Amulet Bags, Bracelets and Necklaces. If you choose PDF, it will be e-mailed within 24 hrs of ordering, printed will be mailed out in about the same time.
I'm working on getting 25 years of design work translated to PDF. Some are really old files and have to be brought into the current publishing software I'm using, so it may take a little longer to get it. I'm working backwards from my most recent designs to the older, but if you order an older one I will do it immediately. Thanks for your patience.

kits...
Kits are only available for new designs, they will be listed on the New Designs page. These can be amulet bags, bracelets or necklaces. Once the kits are sold out, you can always get the pattern.
They will all be limited edition kits based on what inventory I have when I finish the new design to make them. If you'd like to know when a new design comes out, click here to sign-up for my e-mail newsletter. I only send out a few a year when new designs or my schedule comes out so you won't be getting daily or weekly spam! Only when there is something truly new or coming up.