............... New Designs ...............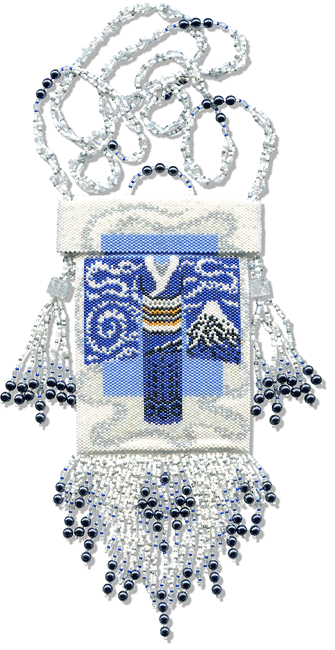 I'm always working on new ideas and designs. As they come to life I'll be adding the new amulet bags here until they are incorporated into a book.
Here are two of the designs for the new Four Seasons of the Kimono, hope to complete the next two by the end of summer. Kimono II - Summer Flow and Kimono III - Fall Winds
Kimono IV - Winter on Mt. Fuji
The necklace/strap stumped me for a bit, I went through several different designs and finally found one that felt right. I've been wanting to complete the four seasons represented by different Kimono designs for years. Kimono I - Spring has been out for quite some time, the other three have always been floating around in the back of my head and "Winter" finally escaped! It must have been this hot summer making me crave just a little winter!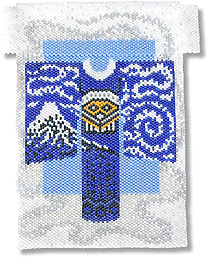 This one features the snow capped peak of Mt. Fuji and the swirling winter winds over the deep blue silk design of the Kimono.
This bag is 4" wide by 5-3/4" long, large enough for your passport to fit inside. I highly suggest making a silk lining in side so that the beads themselves don't take the full weight of the contents alone.
| | | |
| --- | --- | --- |
| | PRINTED PATTERN | $14.00 |
| | PDF PATTERN | $8.00 |
KIMONO II - PATTERN OPPS!!! For anyone who has already purchased the pattern or kit early on. The "BACKSIDE" COLOR KEY, #201 & #221 are reversed, they are correct on ALL the other Keys!