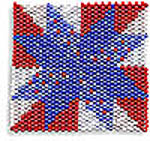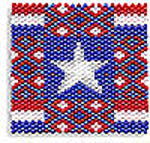 America's Spirit
These six designs are based on classic American quilt forms.
Many of these patterns can be found on antique quilts around America.
These beaded designs are a link to our past and a promise to our future.
To remember who we are . . . Proud to be an American!
They are approximately 2" x 2" perfect to add as the center square of a mini quilt. Or you can link them all together to make your own mini-quilt and frame. The shapes are classic, so you can easily change the colors of the quilt square patterns to match your own decor!