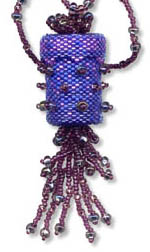 Amethyst Mist
Rich purple and opalescent shimmers. Highly textural
with beads woven into the surface for added impact.
Color Crazy
This is for those of us who can never
decide what color to wear. So it has all of them, or at least quite a few!

Zebra Fancy
Fun and fanciful. This classic animal print
makes for a quick project and fun necklace.
Great beginner project.
Blue Flame
Lacey blue flames shimmer against the dark bue
background. Capture a bit of the night and the
heat of the fire.

Golden Dreams
Subtle gold and copper shading shimmer against
the rich black net and accent beads.
Happiness
The Chinese symbol for happiness is hidden in this red on red design. The color is the traditional symbol for happiness and with it's longer length, can be used to hold more than just a thimble.

Acorn
I've gone nuts! or just one nut . . . I've always been fascinated
with the acorn form and now I've managed to bead it!

Bluebell
This fun little bell shapped flower with it's little blue petals, hangs from the rich green vine necklace accented with delicate leaves.

Seaside
Bright blue skies, frothing white waves and a bit of the
golden beach. Capture a little of the seaside and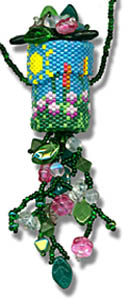 carry it with you always.

Springtime
Spring has sprung and so have all the flowers, the sun is shining, what more could you ask for?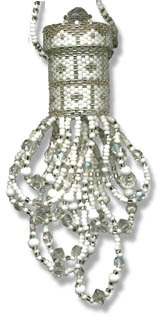 Crystal Shimmer
Pure snowy white accented with Silverlined beads and clear antique crystals create a delicate confection spun out of light and beads.

Moon Shadow
On those rare nights, the bright new crescent moon is out, and yet, you can just see the shadow of the full moon to come later.