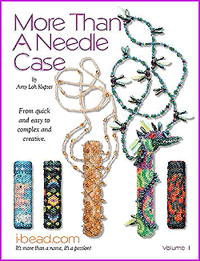 More Than A Needle Case
Volume 1
| | |
| --- | --- |
| PRINTED BOOK | $24.95 |
| PDF BOOK | $20.00 |
I love making needle cases. The come together so quickly! This has now allowed me to take it to another level. They are the perfect medium to create all sorts of fun structural and dimensional designs around plus be useful at the same time!
When the little dragon popped into my head, it was all I could do to to hold myself back enough to write the directions at the same time, he just wanted to come to life so fast! And Zephyr was a challenge as these are not my colors, but the people who saw it coming to life seemed to resonate with it so I must have done okay! It is a lovely piece, just working out of my usual color palette!
From simple designs that were inpspired from the Gotcha Covered book for both long and short needle cases and the three more dimensional and structual ones, you'll have a nice variety of projects for gifts and fast one day projects. The colors can be changed easily on several of them to change the feel of the design easily!
Click on the amulet name to
go right to the design.


IMPORTANT . . . Read Before Ordering!!!

PRINTED PATTERN
Pattern for amulet design as shown

PDF PATTERN / BOOK
Delivered via e-mail within 24 hours.

DELICA ONLY KIT ... Includes pattern and Miyuki Delicas (in full 5 gram bags, even if a pattern calls for just 1 bead) does NOT include any fringe, necklace or accent beads.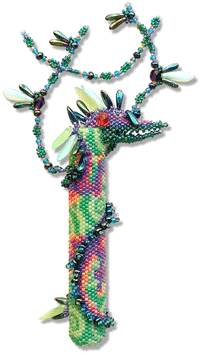 Confetti Dragon
Long Needle Case - 3-3/4" Long (not including head)
T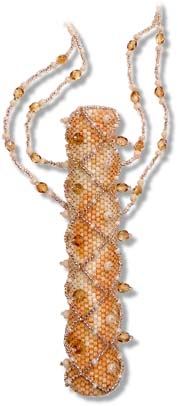 his little dragon has curled himself
tightly around the needle case.He can't
help but peek out at you and his surroundings.
His celebration of color will brighten
any ones day! He's the perfect size
to travel with you!

Zephyr
Long Needle Case - 3-3/4" Long
This elegant piece is soft peaches and cream floating around the needle case like a warm summer wind with both matte and subtle sparkles. Accented perfectly with a little sparkley netting of pale gold, crystals and pearls.