Beader's Chatelaine
Complete Collection

You can order just the book
or the kit in several variations.

Read each description carefully
to make sure you get the correct kit!


COMPLETE KIT
w/o Components $145.00
DOES NOT include Tape Measure, Thread
Heaven, Long & Short Needle Case,
Embroidery Scissors, Snips Scissors

REFILL KIT $125.00
DOES INCLUDE all Delicas and Fringe
and Necklace Beads.
DOES NOT INCLUDE Pattern Book or Components

REFILL KIT
with Components $145.00
DOES INCLUDE all Delicas and Fringe
and Necklace Beads.AND Components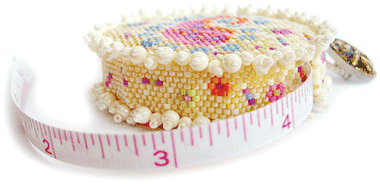 Tape Measure
You have to measure your projects to make sure of the correct fit, so every beader needs a tape measure sometime!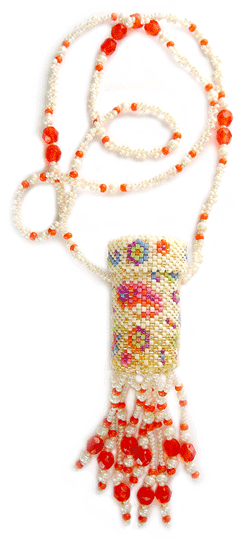 Thimble Catcher
I always use a thimble now when I bead, it saves a sore finger for all the hours that I bead at a time.
This also makes a cute little container for anything you can think of!
Thread Heaven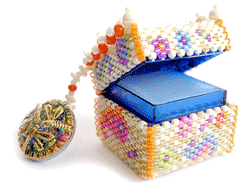 Thread Heaven is useful with Fireline and Nymo thread. Plus I just love the shape of this little box. I have a soft spot for boxes!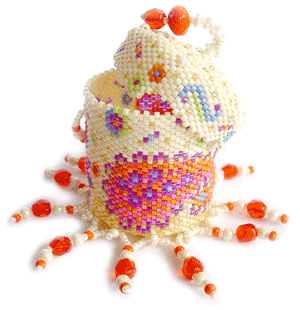 Thread Holder
There's always space for one more container! This will hold a small spool of Silamide or several spools of Nymo. Or, whatever gadget or bit you need to keep track of.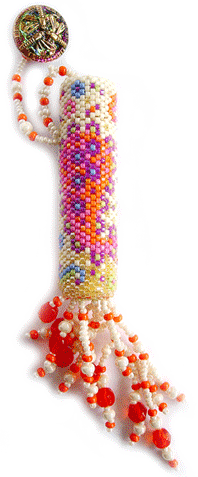 Short Needle Case

With all the different types of needles, short and long needle cases come in handy.
Long Needle Case
We all need someplace to store all our needles.
I actually have several of these, one for each of the different size needles that I use!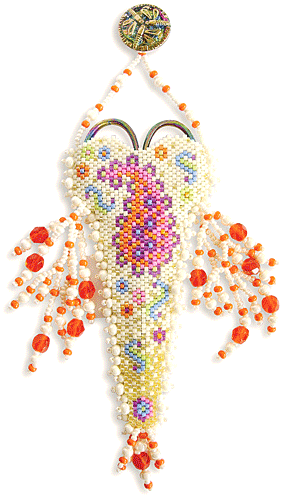 Embroidery Scissor Case
This fun design is perfect for your special 3.5" embroidery scissors. Accented with a lot of fun frills and a splash of fringe.
Scissor Snips Sheath
Snips are the perfect cutting tool for Fireline, extremely durable unlike good embroidery scissors and just as good cutting beading thread. Now you can have a lovely cover to hold them in.