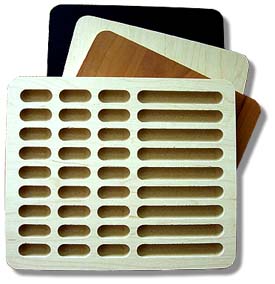 Travelling Bead Board
NOTE... Temporarily Out of Stock.

The new bead boards have curved edges so that your thread will slide around them easier and all the bases have the Natural wood finish so that your bead colors stand out better.

Comes with two extra large binder clips to hold lid on. Lids only come in Natural. To make sure you open your board right side up, put your initials or draw a picture with a sharpie marker or put a sticker on the top so you know instantly which side is up!

If you place an order, your CC will not be charged until they are ready to ship. Travelling Bead Board $25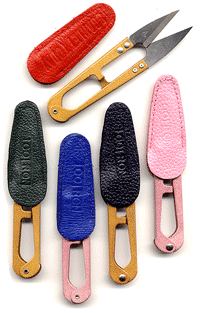 thread snips
These have to be some of the greatest thread scissors I've ever used. Ultra sharp and great for cutting thread really close to the work and a nice clean cut for new threads.
You choose the sheath cover colo, the snip color will be pink, tan or charcoal. I got a mixed lot so you can request a specific color snip, I'll try, but as the quantities go down it will be harder to match up your exact pick.
NOTE: Limited colors may happen. Select your preferred color first, then select either "Any" or "Delete from Order" under the "If not available".
One . . . $5.00


Two . . . . $8.00


Three . . . . $11.00

snap clasps


Since I started using these in my kits, people have been asking for them, so here they are! They hold very firmly and are fairly easy to clasp on and off once you get the knack. They don't take a lot of room so it keeps you from having a large gap in your bracelet....9.5x15mm
Five Pairs . . . . . . . . . . . . . . . . . . . . . . . . . . . . . . . . . . . . $3.50


Ten Pairs . . . . . . . . . . . . . . . . . . . . . . . . . . . . . . . . . . . . $6.00


Fifteen Pair Mix (choose colors in shopping cart) . . . $9.50

silamide thread
Silamide is my favorite type of beading thread "Size A", it's a prewaxed bonded nylon that doesn't fray easily and doesn't need to be stretched or waxed.
100 Yard Spool
White, Ash or Black, Royal Blue, Rose, Gold, Purple, Forest Green $3.50

500 Yard Spool
White, Ash or Black $6.50


bees wax button
Since Silamide is already waxed, when you want the ends to stick together you need bees wax, NOT Thread Heaven. Wax the last few inches of thread and flatten just the tip, remember to always cut your thread at an angle. Hold just a very short little end no more than 1/4" and it should go right through your needle.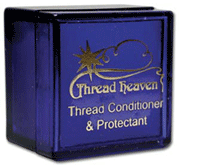 thread heaven
If you're using Fireline, thread heaven is invaluable. Run your Fireline through it at least twice. This makes it less like to tangle, though Fireline has a mind of it's own. It's like curling ribbon. If it gets all kinky on you, run it between the "Pads" of your fingers gently, this will smooth it out.
bead scoops
I prefer these metal bead scoops, the plastic ones develop static and cause my beads to stick and jump.
1 Scoop $1.00


3 Scoops $2.50

shells
Mixed 3" x 3" bag of shells perfect for the Beachcomber and Seaside kits. All shells have holes. To string the beads easier, you'll want to use a french wire needle or even a dental floss threader!
NOTE: Shipping on this is $6.50 since it has to be sent in a box so they won't be crushed. A good item to order with other supplies like thread which also needs a box.
3" x 3" Bag $4.00

Gift Certificates...
Just choose the amount, the decorative certificate will be sent to you, or choose to have it shipped directly to the recipient (enter their name and address in the shipping section) will be sent with your return address on the envelope.
$15 Certificate
$25 Certificate
$50 Certificate
$75 Certificate