• • PO Box 365 • Tetonia, ID 83452 • Phone 360.271.1410 • E-mail Us • •
12 Days of Christmas
Ornaments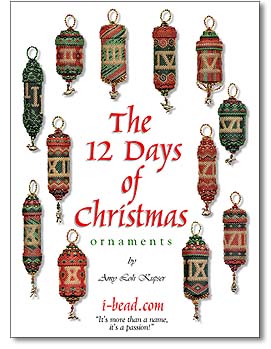 These ornaments are both beautiful and functional. They can be opened and small gifts, messages, or prayers can be put inside. Each is adorned with a charm representing the day. A perfect way to celebrate the Christmas holiday.
I've also included the generally accepted meaning of each day as thought of by the Catholic Churh. There is an ongoing debate as to the reason for the creation of the song which I found interesting to research.
This is NOT a beginners book, you should know how to do the Peyote Stitch before you try these.
COMPLETE KIT $174


INCLUDES: Pattern Book, Delicas, accent beads and charms.
12 DAYS OF CHRISTMAS REFILL KIT $155


INCLUDES: Delicas, accent beads and charms. NO BOOK.
Kits do NOT include needle and thread since most beaders already have them.
If you need them you can order them on the supplies page.