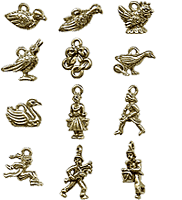 accent beads...
Finally after all the requests I'm making available some of the accent beads that I use on the designs that are hard to find. If you have any that you've been struggling to find, e-mail me and I'll see if I have any extras on-hand. Just remember, older designs were retired because I couldn't get the beads either!
12 Days of Christmas Charms
Set of 12 for $11.50 . . . . . . . . .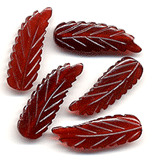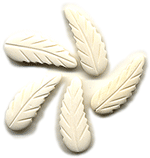 Red Horn Feathers (Oh! Scarlet)
10 for $6

White Bone Feathers (Cockatoo Attitude)
10 for $6


buttons...
These stunning glass buttons are hand-pressed one at a time! The glass molds are anywhere from 80 to 120 years old! The finish on top uses up to three metallic colors which creates a prism like effect, depending upon which way the light hits the button, you'll see more gold, blue, green, purple or pink.
The pictures online don't do justice for the luster of these buttons. They make stunning focal pieces for necklaces and closures, at a fraction of what you'd pay for standard clasps. Especially understated are the triple vitrial finishes of gold pink and green, oh! these are gorgeous in person!
NOTE ABOUT SHIPPING: Buttons must be sent in a box to protect them, if you are ordering books or kits too, your order may be split into two packages or may have to go to the next shipping rate for a larger box. I will e-mail you with the correct shipping rate.
Vintage Mother of Pearl
Rare find, these are lovely delicate buttons, that are perfect for a closure on a woven pearl or crystal necklace/bracelet.

$1.25 ea. or 5 for $5

Beautiful black edging shading
to a silvery pearl center.

3/8" Across
Pansy Face, Triple Bouquet & Triple Dragonflys
These buttons make fabulous bracelet clasps. The work very well for people who are allergic to metal since it's all glass!
Winding Vines & Triple Ginko Leaves
These are great as focals for bracelets or necklaces.
Unique Designs & Shapes

Transparent Ruby
with
Silver Dragonfly
1-5/8" Across

$10.50

Dark Green Border with Chartreuse Green
with Gold Dragonfly
1-5/8" Across

$12.50

Large Celtic Wave
Rich Topaz Gold Background with Gold Accents Around Outside Edges
1-5/8" Across

$12.50

Floral Shield
Rich Teal Blue Around Outer Edge to Teal then Dark Purple in Center with Gold Accents
1-3/8" Across

$10.50

Victorian Square
Peacock Green with Rainbow Effect and Gold Accents
1-1/4" Across

$10.00

Satin Blue
Fern and
Leaf Design
1-1/4" Across

$7.50

Irridescent Green
Peacock Tail with Pink
Rhinestones
1-1/2" Across

$10.50

Victorian Square
Soft Pastel Blue and Lavender with Gold Accents
1-1/4" Across

$10.00

Satin Sage Green
Fern and
Leaf Design
1-1/4" Across

$7.50

Irridescent Pink
Peacock Tail with Green
Rhinestones
1-1/2" Across

$10.50

Victorian Oval
Azure Blue
with AB and
Gold Accents
1-3/8"h x 15/16"w

$7.00

Victorian Oval
Metallic
Olivine
1-3/8"h x 15/16"w

$7.00

Victorian Oval
Irridescent Green
with AB and
Gold Accents
1-3/8"h x 15/16"w

$7.00

Victorian Oval
Metallic
Azure Blue
1-3/8"h x 15/16"w

$7.00