NOTE: These projects are for Bead Cruise & Retreat Participants ONLY.
Not available for regular website orders.
Projects...
PROJECT CHOICE DEADLINES - 4 MONTHS PRIOR TO RETREAT/CRUISE
You can also use your any additional credit left you can use them for the goodies at the bottom of the page or any other kit, book or pattern offered on my website or on any of the trunk show items.
You will be able to choose colors once you've add the project to your shopping cart. Colors may vary due to different computer monitors. Limited additional kits will be on hand to purchase or exchange color ways.
If you see something specific on any of the designers web pages,
including mine! That you would like to do in addition to the options below:
Type the Designers Name ... Project Name ... Color Way
Into the"Ordering Instructions" box in the shopping cart.
Designs by Amy Loh Kupser
Choose from ANY of my amulet, bracelet or necklace designs on the main website to add as a project, e-mail me if you have questions about how it would work with your project points.
Sweet Dreams (Shown above)

Blue, Teal &
Green Floral

Chocolate,
Teal Floral

Pecan, Lavender
Floral Splash

Aqua, Teal &
Purple Clouds


Orange, Purple,
Plum Floral



Purple & Blue
Raindrops

Pastel Cream &
Teal Vines

Orange, Purple,
Plum Texture

Sweet Dreams . . . . . . . . $100

Select Batik fabric choice in shopping cart. May not be exact
but very similar and extras will be available to exchange.
MANY more color choices at the studio to choose from,
so don't worry about exact color now. You'll have the option to
"choose later" in the shopping cart.
This is the perfect size for your cruise room key or as a mini purse for your credit card and ID as you walk around town and not have to carry a purse! Explore bead embroidery and have some fun with fringing. This piece is both easy and complex. You decide how much to embellish it. Keep adding to it through out the whole cruise. You just need to zip up the sides and add the necklace and you can start wearing it immediately!
Each kit comes with two moon faces, eyes open and closed. Lovely lucite flowers or other beautiful accent beads, or stones, pearls, or other fanciful shapes to go with the colors of the fabric, plus a custom bead mix.
The pattern will include detailed instructions on different bead emboidery techniques, necklace options and more!
Klondike Amulet Bag
Bring a little bit of the Northwest back with you. This design represents more than just the Kondike but the great Pacific Northwest.
As each person places their project order you'll get your choice of the porcelain focals. Picture on the right is just a sample of the designs. I'll e-mail you a current photo as soon as your order comes in.
String the fringe elements and accent beads in your own unique combination for the necklace and around the bag will make it your own. Time to get creative or follow the original pattern.
The amulet comes in TWO color ways:
Kondike Forest - A combination of deep satin browns with AB coat and bronze, dark olive, burnt sienna and cream and amber accents.
Klondike Glacier - Soft teal blue greens, champagne beige, white, frost white, crystal sea foam and teal AB accents.
The fringe elements consist of daggers, crystals, seed beads, and natural stone to compliment each color way. Components will vary in each kit.
Klondike Amulet Bag . . . . . $125
::::::::::::::::::::::::::::::::::::::::::::::::::::::::::::::::::::::::::::::::::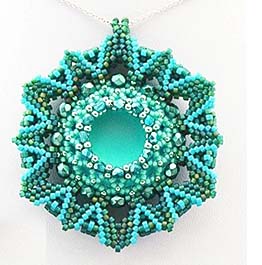 Designs by Ella Des
Ella is an amazing international designer. She travels the world by sail boat! Touching down here and there but never in one place long. She creates the most wonderful designs. Her patterns are super detailed with step by step photos along with her descriptions. I'm proud to offer these designs from her.
Zahara Pendant
A Lunasoft Cabochon glows softly from the middle of this fantastic pendant. Taking advantage of the contrast of the soft glow from the center to the sparkle of the crystals outside nestled inbetween the delicas and seed beads. Each color way will be tone on tone like the sample to the left. Extras of the color ways are available to swap or add!.
Ocean Breeze - Aqua / Teals .... Midnight Iris - Deep Purple / Black AB / Indigo ....
Tropical Splash - Tangerine / Fuchsia
Zahara Pendant . . . . . . $35.00
::::::::::::::::::::::::::::::::::::::::::::::::::::::::::::::::::::::::::::::::::::::::::::::::::::::::::
Designs by Liisa Turunen
Liisa has been working professionally as a designer and teacher since 2006. She has taught at the Bead & Button Show and Bead Fest shows. Along with beads her other major obsession is with cats. Often volunteering in her local shelter and fostering kittens! Cats have been her biggest inspiration in her designing process. And just like cats, her designs are known for being classic, ageless, and gracefull . . . with a few hairballs through into the mix!

Cerval . . . . . . . $105
With a combination of peyote
and right angle weave, create three
different sizes and styles of triangles. Embellished with small
Swarovski rivolis, bicones and pearls this necklace
is a fun piece to make and to wear.
Color: Bronze / Silver / Crystal AB
Harley Necklace . . . . . . . $135
Bezel juicy cabs and connect spikes for a fun casual necklace
that will get you noticed. Kit Includes: Japanese Seed Beads, Cylinder beads, Spikes, Fire polish, Swarovski stones, One G Thread, detailed instructions
Color Choices: Multi Color, Silver & Gold


Snowburst Pendant . . . . . . . $95
It may be summer but you are coming to a retreat in the heart of the Tetons! This Super Sparkly Pendant celebrates winter! This is her 4th year designing a new "snowflake" piece for the holiday season and it may be the shiniest one of all.
Color: Silver / Crystal AB
You can see more of her designs at www.liisaturunendesigns.com. She will also send a mini-trunk show of a mix of all her designs for you to see in person and add to your stash! If you see something specific on either of her websites that you'd like to get instead of the projects below, let me know and I'll make sure to put it in your goody bag!
::::::::::::::::::::::::::::::::::::::::::::::::::::::::::::::::::::::::::::::::::::::::::::::::::::::::::
Designs by Agnieszka Watts ... agnesse.weebly.com
Agnieszka Watts lives in Illinois. Her native country is Poland but is also of Scandinavian origin. She is passionate about beading, creating and the most important about inspiring, educating motivating and helping people finding their love for creativity. Agnesse uses many techniques in her artwork like bead stitching, bead weaving, wirework, bead embroidery on beautiful fabric like silk, velvet, macramé, soutache.
I've chosen these four lovely designs by her, but she has so many more available on her website. I will have a wonderful little trunk show from her at the retreat..

Ocean Lily Pendant

$38 . . .
This is a beautiful structural
peyote build to create this
delicate and bold flower that
you can wear as a pendant
or it would make a fabulous
ending for a lariat.
Colors:
Soft Pink or Purple Lily
:::::::::::::::::::::::::::::::::::::::::::::::::::::::::::::::::
Retreat Goodies...
Got Light?

Found these fabulous lights a quilt show and immediately saw the perfect portable craft/task light! Nothing to break, no replacing bulbs, and light weight.

I've gone one step further and made them truly a task light. The back of the light is painted so the light is now focused downwards and it doesn't reflect back or out the sides and I've made a wire frame out of 18 guage art wire. You can do this on your own and I will have instructions on how to do it or you can make it one of your projects for the retreat!

It can be worn as a necklace, clipped to your shirt, or attached to the portable rechargeable battery pack. You decide how you want to use it.

These lights can be powered via the portable battery packs you can purchase for as little as $5 at your local box store (go to phone accessories and it's the same extra battery pack you'd use to recharge your phone), or use a USB to Micro USB cord and wall plug that comes with the older Android or Samsung phones, tablets or kindle readers. NOT Apple!!! It will KILL your light.

These lights are full spectrum, giving you a true color and you wear it so that it is angled right over your hands where you're looking, not shining at you or in front of you putting your beads in the shadow under your hands, or trying to find a place to set your light without it getting in the way. I find the eight elements to be a bit much and will use your battery power up a little quicker, but if you need the extra light, there's no comparison. No more leaning forward over and over again to get your hands under the light to see what you're doing, saving your back!

The 4-LED will run on the inexpensive portable power source for 6-7 hours, pretty amazing, cut that by half for the 8-LED. So it's always good to have two batteries on hand, one to be charging, one to be in use, or if you have one of the newer mega power packs, you'll be set!

Design Save'n Go! Junior ... $25 ...

Keeps your projects-even small beads and tools -perfectly in place! Includes a design template and The Perfect Bead Mat which allows you to keep your project just how you left it! 1) Create on the built-in Perfect Bead Mat! 2) Not finished? No problem! Just close it! 3) Take your unfinished project with you! 4) Open it and everything is right in place (NOTE: Only if you don't tip it sideways!)

We have found this a great tool for beading and the size is just right to pack around the ship.
Beaders Starter Kit ... $25 ...

New to beading? These are all the basics you will need to do the projects on the cruise or retreat. OR if you are a beader and have all the tools, but don't want to pack them all along. Now, they'll be waiting for you in your goodie bag!

Snips for Thread or Fireline
Beading Mat
Size 10 & 12 Beading Needles
Silamide

6lb. Fireline 15 yd Spool (2)
Tape Measure
Bees Wax
Bead Scoop

Note: Does not include Thread Heaven shown in picture, it's no longer available.