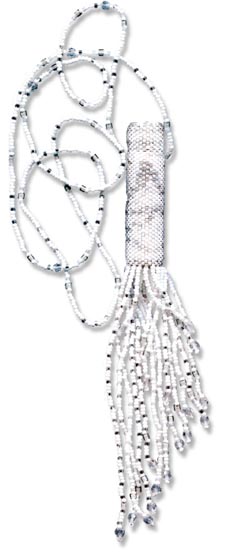 Grand Teton Summer Sunrise
or Winter Wonder Needle Case
Needle Case & Necklace
Long - Kit $36 / Short - Kit $32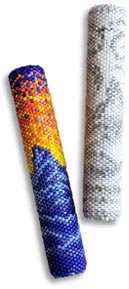 We all need needle cases for all the different sizes and types we use! Now you can keep them in style! Fairly quick project as it's only 36 beads around. Fun flowing fringe and easy patterned necklace. For this I prefer the single strand, but there are enough beads to embllish and add a second strand to it.
This is available for the short OR long needle case. Choose either, they both include the necklace and bottom fringe. I prefer the long for my needles, and the short to wear!
The designs are different, I got a little carried away when making them longer, with the winter winds swirling above and the sunrise with more of th foothills and a sunny gold sunrise.
Now you can keep your 10, 12/15, Big Eye and Shorts all sorted and in style!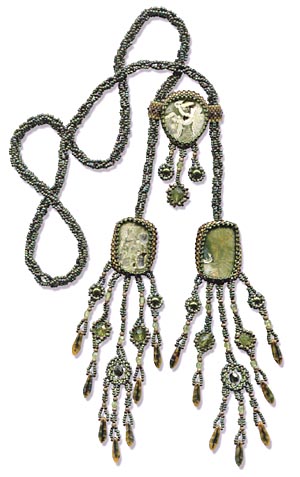 Horizons
Bolo Necklace - Kit $95

Learn how to adjust an easy bezel around different stone shapes from the rectangle, drop, round, oval and more.
We've all collected these stones at shows and then wondered ... what are we going to do with it? Here's a fun way to feature them and show them off. This necklace uses your choice of focal semi-precious stones.
You'll have a variety of stones to choose from, aquamarine, jade greens, rainforest jasper, creamy fossilized coral, striped marble and more. Then I'll help you mix your choice of seed beads, pearls, crystals and more to create your signature colorway.
If you have stones at home you've never been able to figure out what to do with, bring them along, this may be the perfect necklace to feature them in. Should be flat stone beads cabochons, 1" and up. Though we can adjust this design easily for smaller stones. The rounded necklace makes this easier to wear and distributes the weight better.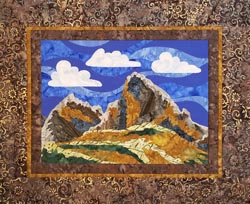 The open bezel design shows off both sides of your stone. If your stone only has one good side, you can bead it closed on one side.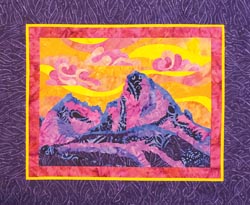 Teton Memory - Summer Day
or Summer Sunset
Mini-Art Applique Quilt -
Center Panel 12" x 16" - $65

I've discovered the joy of art applique quilting... drawing with fabric! This is the perfect piece to capture your time as a small wall art hanging. Try your hand at something a little different.
It is a full laser cut kit, so no fussy cutting, just pop them up and put them in order. Then it's paint by number with fabric! You can choose from two different designs featuring the time of day, plus the border and binding fabric of your choice from my stash. You can finish it here, or take it home to finish with your fabrics.
This will give your eyes a break! We still get to work with color that inspires us and see something come together in a new way while not straining our eyes. Samples coming soon.
Out of the Box - Glass Fusing Class
Sun Catcher, Pendant or Earrings - $75

Local Artist & Instructor Nancie will walk us through the basic steps of creating a fused glass art piece. We'll jouney down the valley to her extensive glass studio where she has numerous examples of what you can create, plus all the components and supplies ready for us to make some memorable pieces.
Nancie has owned bead stores and been creating jewelry from her work and traveling to art and craft shows around the country for years. If you're still here on Saturday after the retreat, or come early, you can see her at the local Arts and Craft Market she runs in downtown Driggs, 9 am - 3 pm and see many of the other great local artists. Photos coming soon.

Kit & Bead Stash Sale
Amulet, Bracelet & Necklace Kits - $12 on Up
Bead Supplies - $2 on Up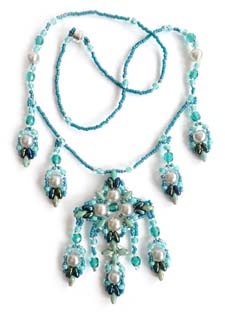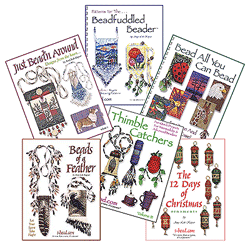 Choose from any of the amulet bag, bracelet and necklace kits I've designed in the past 26 years.
35%-50% OFF all my Existing Kits.
Kit any design for it's regular price.
Books and Patterns 35% OFF.
This is the perfect time to stash build for gifts or yourself! Plus, I'll have tons and tons of seed beads, Czech Glass Pearls, Fire Polish Crystal, Pressed Glass Beads for sale from all the crazy supplies I've collected to kit and from my private stash, from lampwork to Venetian Glass beads, pearls and semi-precious stones, sterling silver findings and more.
Previous Retreat Projects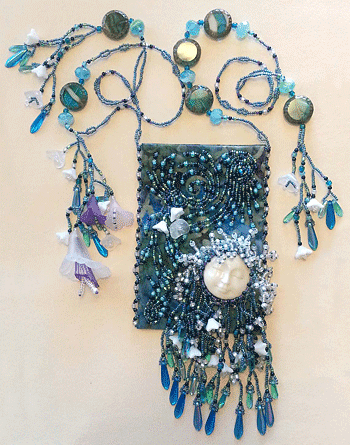 Amy Loh Kupser
Instructor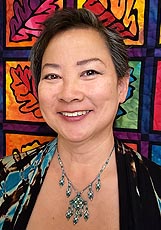 You may have met me at shows or stores around the country. I've been teaching beading for over 20 years. I enjoy teaching and have a unique format for the retreats and cruises where you work on what you want on any given day, for as long or a short a time as you wish. Switch between projects or focus on just one.
Sweet Dreams - Key Card Holder
The wonderful projects offered are the designs of many of the other great national designers plus myself. Some choose to focus on designing, others who would rather not travel, and some who have just graciously granted me permission to teach their designs so you get a chance to learn about them. Some of these designers I'd love to be able to bring along sometime in the future as these grow.

Choose from ANY of my amulet, bracelet or necklace designs on the main website to add as a project, e-mail me if you have questions about how it would work with your project points.
Sweet Dreams (Shown above)

Blue, Teal &
Green Floral

Chocolate,
Teal Floral

Pecan, Lavender
Floral Splash

Aqua, Teal &
Purple Clouds


Orange, Purple,
Plum Floral



Purple & Blue
Raindrops

Sweet Dreams . . . . . . . . $115

Select Batik fabric choice in shopping cart. May not be exact but very similar and extras will be available to exchange. MANY more color choices at the studio to choose from, so don't worry about exact color now. You'll have the option to"choose later" in the shopping cart.
This is the perfect size for your cruise room key or as a mini purse for your credit card and ID as you walk around town and not have to carry a purse! Explore bead embroidery and have some fun with fringing. This piece is both easy and complex. You decide how much to embellish it. Keep adding to it through out the whole cruise. You just need to zip up the sides and add the necklace and you can start wearing it immediately!
Each kit comes with two moon faces, eyes open and closed. Lovely lucite flowers or other beautiful accent beads, or stones, pearls, or other fanciful shapes to go with the colors of the fabric, plus a custom bead mix.
The pattern will include detailed instructions on different bead emboidery techniques, necklace options and more!
Klondike Amulet Bag
Bring a little bit of the Northwest back with you. This design represents more than just the Kondike but the great Pacific Northwest.
As each person places their project order you'll get your choice of the porcelain focals. Picture on the right is just a sample of the designs. I'll e-mail you a current photo as soon as your order comes in.
String the fringe elements and accent beads in your own unique combination for the necklace and around the bag will make it your own. Time to get creative or follow the original pattern.
The amulet comes in TWO color ways:
Kondike Forest - A combination of deep satin browns with AB coat and bronze, dark olive, burnt sienna and cream and amber accents.
Klondike Glacier - Soft teal blue greens, champagne beige, white, frost white, crystal sea foam and teal AB accents.
The fringe elements consist of daggers, crystals, seed beads, and natural stone to compliment each color way. Components will vary in each kit.
Klondike Amulet Bag . . . . . $125

::::::::::::::::::::::::::::::::::::::::::::::::::::::::::::::::::::::::::::::::::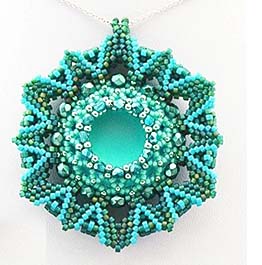 Designs by Ella Des
Ella is an amazing international designer. She travels the world by sail boat! Touching down here and there but never in one place long. She creates the most wonderful designs. Her patterns are super detailed with step by step photos and instructions. I'm proud to offer these designs. I support her designs and work by purchasing the teaching license then kit them. She has her own style and seeing them inspires me in new directions.
Zahara Pendant
Necklace & Pendant - Kit $45


A Lunasoft Cabochon glows softly from the middle of this fantastic pendant. Taking advantage of the contrast of the soft glow from the center to the sparkle of the crystals outside nestled inbetween the delicas and seed beads.
Three color ways are available, Aqua, Cobalt, Vibrant Orange/Pink or Orange/Green.
Annalies Bracelet
Kit $36


Featuring Super Duos or Czech Twins, this is a fairly quick bracelet. You can customize any of the colors from my bead stash to make it your own creation. Using a slide clasp, this is a beauitiful cuff bracelet without the big gap a lot of them have when you use a traditional toggle.
Custom colorway created for you from my bead stash.

Super Diamond Pendant
Kit $24


I've always liked the shape of this pendant. It can also make the perfect drop at the end of a Bolo necklace, or make it th loop for a slide necklace.
Custom colorway created for you from my bead stash.
::::::::::::::::::::::::::::::::::::::::::::::::::::::::::::::::::::::::::::::::::::::::::::::::::::::::::
Retreat Goodies...
Design Save'n Go! Junior ... $25 ...

Keeps your projects-even small beads and tools -perfectly in place! Includes a design template and The Perfect Bead Mat which allows you to keep your project just how you left it! 1) Create on the built-in Perfect Bead Mat! 2) Not finished? No problem! Just close it! 3) Take your unfinished project with you! 4) Open it and everything is right in place (NOTE: Only if you don't tip it sideways!)

We have found this a great tool for beading and the size is just right to pack around the house and to use on retreats or on the cruise ships.
Beaders Starter Kit ... $25 ...

New to beading? These are all the basics you will need to do the projects on the cruise or retreat. OR if you are a beader and have all the tools, but don't want to pack them all along. Now, they'll be waiting for you in your goodie bag!

Snips for Thread or Fireline
Beading Mat
Size 10 & 12 Beading Needles
Silamide

6lb. Fireline 15 yd Spool (2)
Tape Measure
Bees Wax
Bead Scoop

Note: Does not include Thread Heaven shown in picture, it's no longer available.