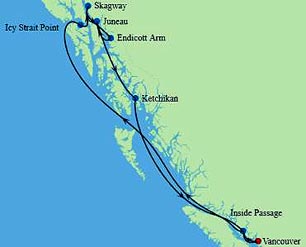 Questions or to hold your space? E-mail or call 360.271.1410 MST.
September 15-22, 2024 :: 7 Night / 8 Day Cruise
Dawes Glacier Cruise



Celebrity Cruise Line ::: Celebrity Solstice
We're traveling on the luxurious Celebrity Cruise Line this time to some new locations.
Icy Strait Point, Dawes Glacier and Endicott Arm are on this route.
Click on the links above to visit Celebrity's cruise webpage for full details of the cruise.
You can also click on the ship name above to see pictures of this amazing ship.
Round trip from Vancouver, BC with some fun 1-2 day PRE-Cruise tours to be offered. This is a beautiful part of the country to explore if you've never been here, so taking the time to enjoy being in Vancouver and the surrounding areas is worth the extra couple of days. Once I get the details together I will be posting both the hotel and tour options on the page.
: : : I T I N E R A R Y : : :
September 15 - 22, 2024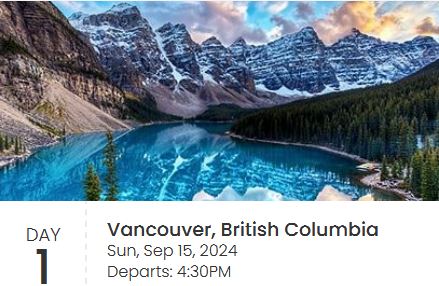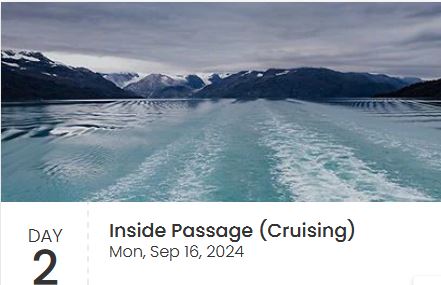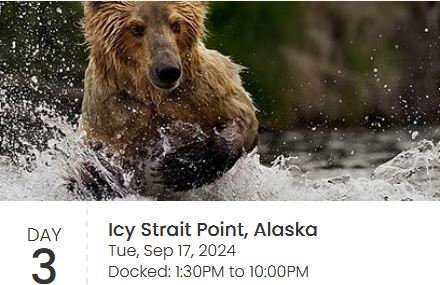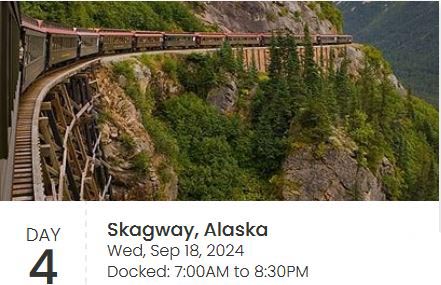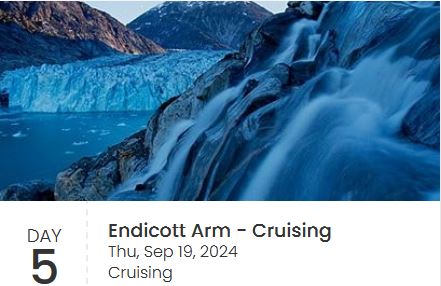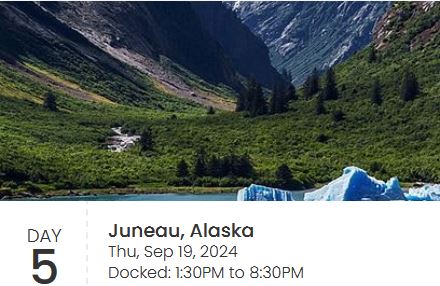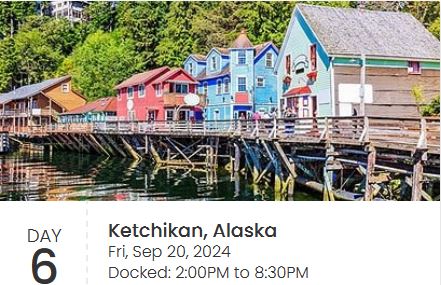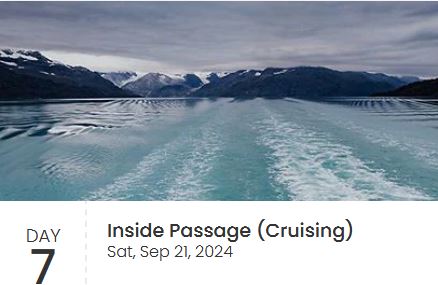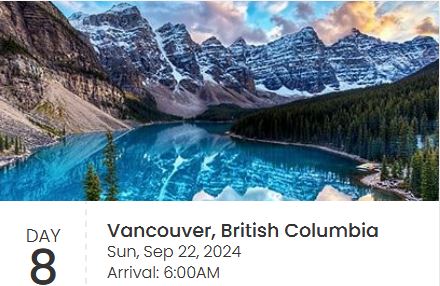 We never know until just before the cruise what room we will have to bead in, it could be one of the card rooms or one of the restaurants that don't open until dinner. But we're guarnateed a wonderful view wherever we may land.
Maximum of 24 beaders, I've found this is a great size, lots of personal hands on time and not getting lost in the crowd! With the beaders package you have a $150 credit + an additional 10% off to go towards your project kits. If you choose the Bead Along option, you can still purchase kits as you go at their regular price.
Click here to see past class choices. New designs are in the works. And if you don't see anything there, come along as an Bead Along, and enjoy the perks of the group and bring along your UFOs. I know you have them... I do! A mini trunk show will be held during full sea days with additional kits and goodies.
Itinerary

DAY 1: VANCOUVER, BC - Once a trading post and a rough-and-tumble sawmilling settlement, today modern Vancouver, Canada is many things. It's a bustling seaport, a hub for outdoor enthusiasts looking for active things to. This is just the beginning of our adventure!

DAY 2: INSIDE PASSAGE - AT SEA - BEADING
Alaska's Inside Passage is a protected network of waterways that wind through glacier-cut fjords and lush temperate rain forests along the rugged coast of Southeast Alaska.

DAY 3: ICY STRAIT POINT - For thousands of years, the Tlingit Indians have called this place home. This village is a Alaska Native owned-and-operated tourist destination, with all profits directly supporting the community of Hoonah, Alaska's largest Native Tlingit village.

DAY 4: SKAGWAY - Step back to the days of the last great gold rush -- Skagway served as the primary gateway to the legendary gold fields, and quickly grew into Alaska's largest settlement. It was than a racous frontier hub packed with trading posts, saloons and guesthouses.

DAY 5: ENDICOTT ARM - Alaska's Endicott Arm Fjord marks the southern edge of the 653,179-acre Tracy Arm-Fords Terror Wilderness area. As you sail through its 30-mile-long stretch, you can't help but be amazed by the untouched beauty. Reaching the Dawes Glacier at the end.

DAY 5: JUNEAU - May well be the most remote, most beautiful and strangest state capital in the United States.

DAY 6:KETCHIKAN - Alaska's "First City" of Ketchikan is so named because it's the first major landfall for most cruisers as they enter the picturesque fjords of the Inside Passage, where the town clings to the banks.

DAY 7: INSIDE PASSAGE - AT SEA - BEADING
Alaska's Inside Passage is a protected network of waterways that wind through glacier-cut fjords and lush temperate rain forests along the rugged coast of Southeast Alaska.

DAY 8: VANCOUVER, BC - All good things must come to an end. We're back where we began. There's still lots to explore here. Check Uber prices to the airport before you book the bus!Travel safe home.
Cabin Categories:
Inlcudes: ALL Port Fees and Taxes, Pre-Paid Gratuities, Classic Beverage Package and WI FI.


Inside Cabin
$1206 pp
Single Occ. $2171
Ocean View
$1410 pp
Single Occ. $2579

Balcony
$1693 pp
Single Occ. $3145
Concierge Class Balcony
$1808 pp

Aqua Class Balcony
$2124 pp

Prices effective 2/16/2023 - NOTE: Single Occupancy rate is subject to change.

Travel Packages:
All packages include the great group pricing, group hotel discount, option of PRE- cruise tours and transfer to cruise dock.

Beader Package - $375 ($150 credit + additional 10% off your Kit choices).
You will not be charged for any of the beading options until the week following final payment for the cruise.

Bead Along Package - $250 gives you access to the group cruise rate, goodie bag, any pre/post cruise events,
and group events during the cruise. Ability to purchase individual kits or bring your UFOs

Crafter Package - $175 even if you're not a "beader" but love to do other handwork, enjoy creating with like minded crafters, includes goodie bag, and group events during the cruise.

Companion Traveler - $75. Enjoy our great group cruise pricing!

Supplies to Bring:
You will need to bring your basic tools, 6lb. fireline, your preferred beading thread in colors of your kit choices, snips, cutters, extra needles, bees wax, thread heaven, bead mat/tray reading glasses and/or magnifiers

Travel Task Light is NECESSARY, the lighting on board is soothing but not task oriented!
RECHARABLE is HIGHLY recommended. Second is one with a power cord, though outlets may be limited based on where we end up beading, bring an extension cord too. Third would be one that uses batteries, but bring RECHARGEABLE BATTERIES and the charger. NOT disposable batteries! They DO NOT last and batteries are VERY expensive on the ship and on shore.

If you don't have any basic tools, a starter kit for $25 will be available that will have everything you need.
Class choices will be posted July 2024.
$250 Deposit per person. 100% Refundable up to May 1, 2024 with no penalties!
--- ONLY 24 BEADING SPACES AVAILABLE ---
In the shopping cart choose:
1) Cabin Category
2) Traveler Package: for Passenger 1 and 2: Beader, Bead Along, Crafter, Companion
3) Enter YOUR Birthdate and Passport Number,
Companion Traveler Birthdate and Passport Number
in the box in the shopping cart.
If registering separately, please put the name of your cabin mate in the box.
Make sure to type your name AS IT IS SHOWN IN YOUR PASSPORT.
ONLY your deposit for the cruise will be charged at this time.
Beading Packages will NOT be charged until you've had a chance to see the projects to be offered for the cruise. You'll have the chance then to choose which way you'd like to go.
The projects will be posted in July of 2024. I'm working on some amazing pieces to offer!
Questions? E-mail or call 360.271.1410 MST.
All rights reserved ~ Copyright ~ i-bead.com ~ Amy Loh Kupser
PO Box 325, Tetonia, ID 83452