Questions or ready to reserve your space? E-mail or call me at 360.271.1410 MST.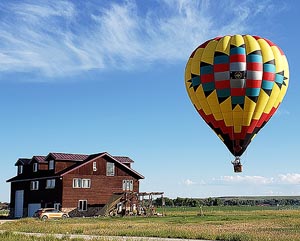 August 20 - 24, 2023
::: Sold Out :::
2023 Bead Retreat Projects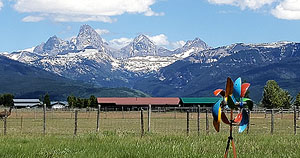 Welcome to my home and studio!
Relax and bead outside on the deck or inside, depending on the weather, all the while enjoying the amazing views and indulging your need to bead!
Located in the Teton Valley and surrounded by the Caribou and Big Hole Mountain ranges with spectacular views of the Tetons themselves from the house and deck area. We're surrounded by beauty. Lots of fresh air and open space.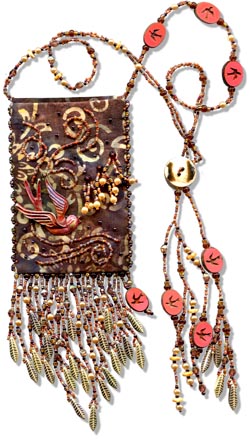 I will be creating special designs for the retreat plus offering projects by amazing designers from around the country and world.
Offering both easier and more complex designs, combining different techniques and more. Bringing you the opportunity to try something new or discover a new designer. Or, bring your UFO's! Now's your chance to work on them, have some hands-on help if you need, or just the chance to focus on the projects without all the distractions of home to get in the way!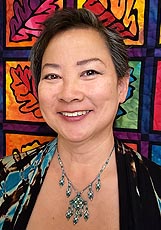 ::::: Your Hostess / Instructor / Go to Gal :::::
Amy Loh Kupser
You may have met me at the different crafting and beading shows, or from a guild class or trunk show at stores. I am changing my focus to mostly design and a few fun bead retreats at my studio or on cruises, combining my love of teaching and travel.
I teach classes in a unique format of an open session. You learn what you want when you want. Switch between projects or focus on one for as long as you wish. I'm available to help you through anything you don't understand.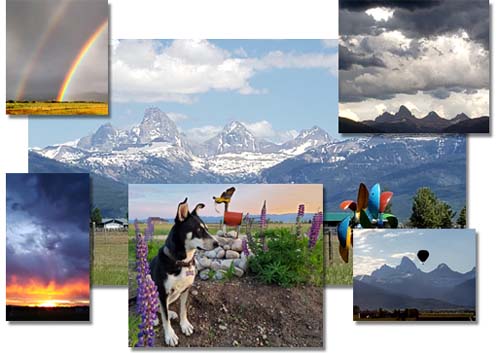 :::::::::: Beaders Package ::::::::::
Includes goodie bag, breakfast and lunch for all five days, snacks and beverage during class and the final group dinner. This five day retreat has four official class days and one free day to rest eyes and hands, or take the chance to explore the wonder of Yellowstone and Grand Teton National Parks.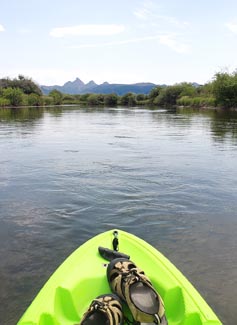 :: Non-Beading ::
:: Companions Welcome! ::
There are lots of activities for the non-beader that come along can enjoy.
Float the Teton River on one of our sit-on kayaks, just minutes from the house.
Experience the peace here at the house, relaxing inside or out. Taking leisurely walks, easy or challenging hikes, biking, photography, kayaking, white water rafting, fly fishing (tours available), scenic drives and so much more, they won't have time to be bored!
::::::::::::::::::::::::::::::::::: Beading Retreat Options :::::::::::::::::::::::::::::::::::
To hold your space, choose from the retreat options below.
A $250 deposit will be charged to your card.
The balance for the retreat will be charged July 1, 2023
Sample Design Idea
Designer Ella Des

Beaders Package ... $575 - Includes Goodie bag, Breakfast, Lunch and Snacks at the studio for all five days. $150 towards any kit/supply purchases PLUS Additional 10% off.
Reserve Your Space ..........................

Open Studio ... $475 - Includes Goodie Bag, Breakfast, Lunch and Snacks at the studio for all five days. Bring your UFOs or select projects as you go at the studio.
Reserve Your Space...........................
Daily Studio Rate ... $95 - Can't come for the whole time? Book just the days you can come, includes breakfast, lunch and snacks for the day. Choose kits from the designer trunk show at the studio or bring your UFOs that you need help on.
Reserve Your Space ..........................
Companion Meal Plan ... $125 - This is for the NON-BEADER coming along along for the scenery and outdoor recreation! Get a good start with breakfast with the group, eat lunch here, or pack a lunch to go for the day for all five days. Includes final dinner together.
Guest Meal Plan ................................

Optional Self Guided Tour Days ... Pack a lunch at the studio and grab snacks. There will be a flyer with tour ideas and addresses to enter into your gps.

Transportation ... not included. You will need to rent a car to get to the studio. Closest airports are Idaho Falls Airport or the Jackson Hole Airport. Other options about 4-5 hours away, Salt Lake City, UT, Boise, ID, Boseman, MT. You'll want transportation to be able to get around for dinner and tour Yellowstone and Grand Teton National Parks.
Cancellations
Cancellations subject to 5% of amount paid to cover CC fees unless paid by cash or check. Balance due July 1, 2023.
We reserve the right to cancel the retreat if the mimimum number of participants is not reached by July 1, 2023.
100% of any amount paid is applicable to any future bead / cruise retreat events by i-bead.com.
::::::::::::::::::::::::::::::::::::::::::::::::::::::::::::::::::::::::::::::::::::::::::::::::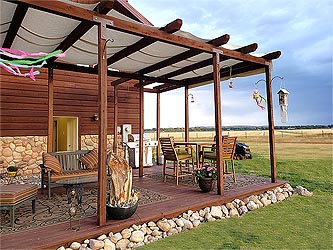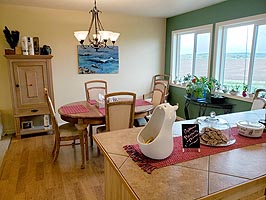 :::: Accommodations ::::
We AirBNB during the summer and have space for 5-7 people at the house, which are the best! Minimum stay is 6 days, 1 - arrival day plus 5 - beading days.
If you don't book a room at the house, there are plenty of others to choose from in the valley (search Tetonia, ID). Book by March or April as this is a very busy time of year for travel and they get filled quickly. I would not suggest any of the hotels, their rates are ridiculous, the Super 8 is about $300 a night and non-refundable! Make sure to read the reviews when booking an AirBNB.
The Serene Teton Room

Enjoy this relaxing private room on the first floor with easy access to the deck and outside.






A firm memory foam Queen bed for 1-2 people, desk, mini fridge, closet area, spacious dresser and 32" Roku TV.

The bathroom is located to the left just outside the door.

Serene Teton Room - BOOKED

The Teton View Master

Located on the second floor. Which is the main floor of the house.

Bathroom is located next to the stairwell. It has an amazing walk in shower with views out into the valley. Frosted windows provide privacy and a view all at the same time!

This can be booked Private or Shared. All reservations are first come first serve. I will update the site once it's booked either way. If shared, will introduce prospective roommates in order of registration to ensure compatibility.

The Queen bed and Twins are all memory foam beads. The daybed converts into two twins with plenty of space to still move around.

Amazing view of the Tetons, 32" Fire TV, open bookcase shelving, bench seat, desk and mini apartment fridge complete this room.

Grand Teton View Master - BOOKED


2 RV Spaces ::: Travel with your own Travel Trailer, Camper or RV? We have 110, 30 or 50 amp service, WIFI, laundry access, water hook-up, sewer dump available with amazing views to the Tetons on the west side of our house. You'll park your driving vehicle in our drive way after parking the camper and just walk around. Easy access to the deck and inside.

RV Space #1 - BOOKED ::: RV Space #2 - BOOKED
:::::::::: Schedule ::::::::::
Saturday August 19th is a travel and get settled. This is not an "official" bead retreat day, We will meet for an optional dinner at a local restaurant around 6pm.
Class days will be held August 20 - 24th - Sunday, Monday, with a break on Tuesday. Class again on Wednesday and final day Thursday. Tuesday you can tour the amazing National Parks or come to the studio to continue working on your projects with help on hand.
Sample Design Idea
Designer Agnesia Watts
Friday is our last day with a group dinner beginning at 5pm here at the studio. We do a fabulous Greek Fondue on the deck for the beaders and their friends/partners or spouses who got dragged along! Must love garlic!!! Perfect for vegetarians and carnivores!
Please let me know in advance of any food allergies and special needs. I will do my best to make sure there is something you can eat and try to keep anything away that would trigger an allergic reaction!
Breakfast, meet at the studio 8:30 - 9:45 am for breakfast with official class time starting at 10 am. Breakfast is assorted fruits, yogurt, granola and cereals with two different quiche/egg dishes each morning. I can again, adjust receipes if given notice beforehand to make tasty alternatives for all unless it's too restrictive, then we can discuss alternatives for just you.
Lunch from 1 pm - 2 pm, make your own sandwiches/salad with various breads and flat bread, fresh salad fixings, multiple dressings, fresh fruit, vegetables, cheeses, sweets and chips available.
Snacks throughout the day of nuts and chocolate and granola bars, veggies and fruit.
Beading from 10am to 5 pm officially, unofficially until your eyes and hands give out!
Dinner is on your own. You're welcome to bring food back to cook either in the kitchen or grill on the deck. There are lots of great restaurants in town and over the hill in Jackson. The local grocery store Broulims has very good take home and cook/heat meals plus there is "Get Baked" where you can pick up a pizza and other tasty foods that are ready to "bake"!
:::::::::: Free Day & Before or After the Retreat Adventures ::::::::::
Whether you arrive early, stay later, or take advantage of your Tuesday "Free Day" take advantage of the chance to go up to the top of Grand Targhee Ski Area (25 minutes from the house). Hop over the hill to Jackson Hole WY or drive through Yellowstone & Grand Teton National Parks. There is so much to do and see around here.
We encourage you to come early or stay extra days to truly experience these National Parks, as they are HUGE. It really takes 3-4 days to see all the highlights without rushing or getting "windscreen fatigue". You've come all this way, take advantage of seeing these amazing natural wonders we have available around us!