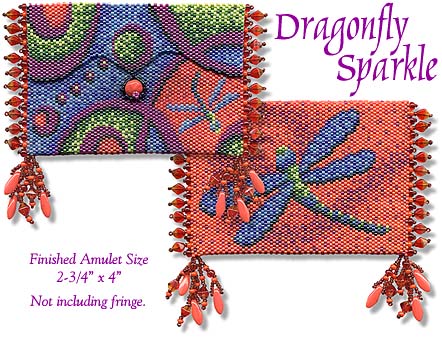 Size: 154 Across by 127 Down
4" Across by 2-3/44" Deep w/o Fringe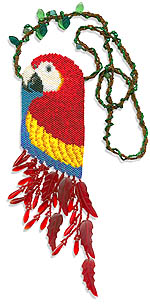 For Cheryl . . . who has a personality
as bright and as vibrant as this dragonfly!
This is a perfect card case to hand your business cards out in.

COMPLETE KIT - ONE LEFT
Reg. $52 SALE $43.20

Oh! Scarlet
Frankly my dear . . . you are a beautiful bird! Brilliant reds, rich gold and deep blues are the trademark of this stunning tropical bird. This design is repeated on the back so he can face either direction. The red horn leaves are very hard to find so the Complete Kit is a good idea of you don't like searching on the internet! I've only found them at the big bead wholesale shows in Tucson.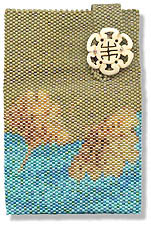 SOLD OUT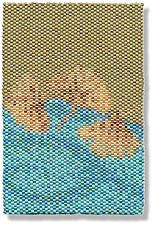 Ginko Flow
These golden ginko leaves flow softly against the edge of the stream. Fall has changed these delicate leaves to their beautiful golden color.
COMPLETE KIT
Reg. $42 SALE $33.60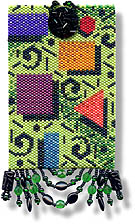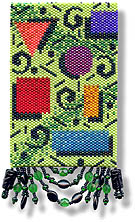 Flashback
Just a little bit of color . . . Who doesn't need some color in their life! This fun and colorful piece just makes me smile.
COMPLETE KIT Reg. $38 SALE $30.40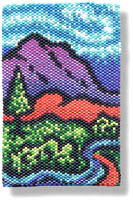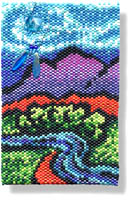 Mountain View
Wind blows streaming wisps of clouds over the landscape
as the vibrant colors shine out from the mountains to the river valley.
SOLD OUT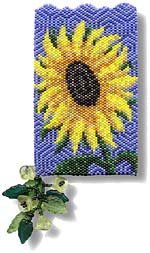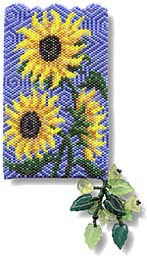 Summer Sunflowers
98 Across by 126 Down
Bright yellow fields with heavy heads full of seeds
sway and bow during the long days of summer.
COMPLETE KIT Reg. $42 SALE $33.60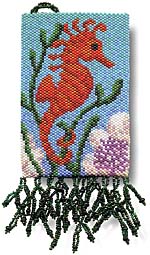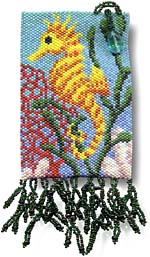 Seahorses
102 Across by 121 Down
I love all horses...this includes the funny little seahorse with it's whimsical colors and shapes. These bright little guys are not shy about being seen!
COMPLETE KIT Reg. $43 SALE $34.40

Blue Flame
Lacey blue flames shimmer against the dark bue
background. Capture a bit of the night and the
heat of the fire.

Springtime
Spring has sprung and so have all the flowers,
the sun is shining, what more could you ask for?

Bumblebee
Busy as a bee
is a good thing to be . . .
but it's also good to
take time off to beeead!

Pinecone
Pinecones come in all shapes, this one is similar to the ones that come off the evergreens near my home in Idaho.

SOLD OUT